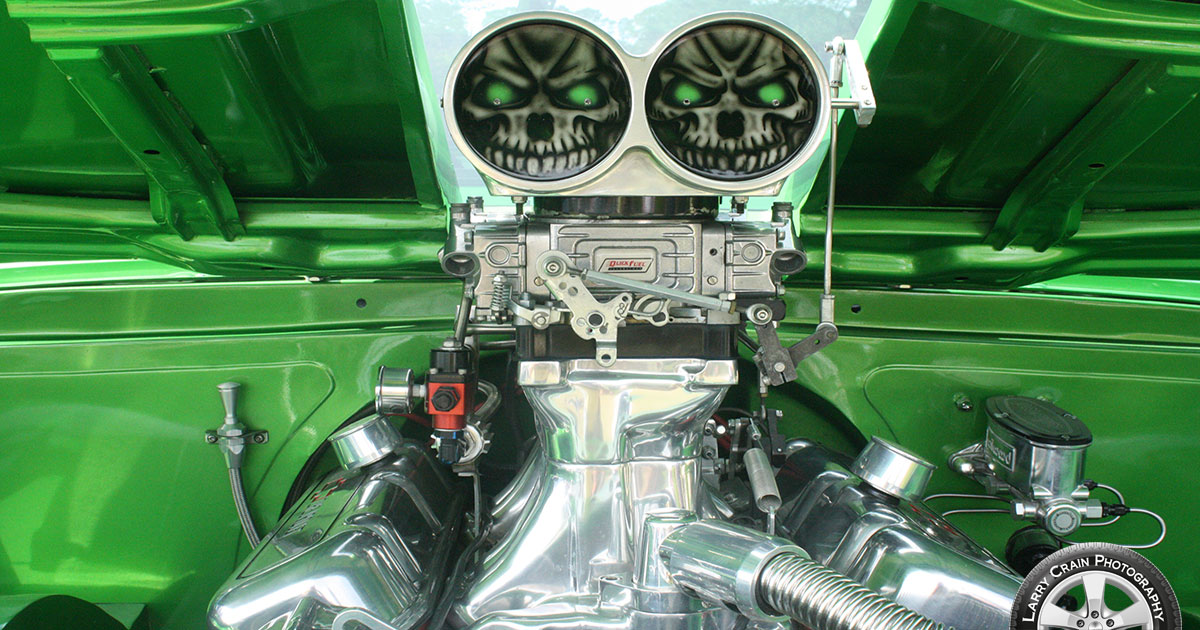 1972 Chevy C10
Article and photos by Larry Crain
Original truck photos by Teddy Mueller
Lowcountry Muscle Car (LMC) member Teddy Mueller of Summerville, South Carolina owns a Pro Street 1972 Chevrolet C10 truck that could be the four-wheel version of the "Hulk". An apt description would be big feet "tires", green as any mean ass monster should be and nothing but a sheer terror if you make the mistake of messing with it on the street.
Teddy has owned this truck since 2002 but back then it was just a mild mannered primered C10 with a 307 engine, a Turbo 350 transmission and a rear end with 3:73 gears. Teddy was in the Air Force at the time he bought the truck, and he left it as-is until he was discharged. But as soon as he got home, the truck started getting some changes with the first one being a motor swap to a 350 four bolt and an early Cuda green paint job with blue flames. Terry drove the wheels off the truck during this stage of its life, but in 2011 he inherited a 468 cubic inch big block Chevy motor. His brother-in law had owned a 1979 Camaro drag car that was also street driven a few times before he lost a battle with cancer, and Teddy's sister knew the perfect place for her late husband's motor to reside. This is when the old Chevy truck started a radical transformation into the Pro Street Monster it is today.

Teddy called on his best friend and his oldest daughter's Godfather, Carl Still, to take on this monster of a project. The build took a year and a half of hard work by Carl to turn the truck into what you see in these photos; a very serious Pro Street machine that just gets in your face with nothing but attitude.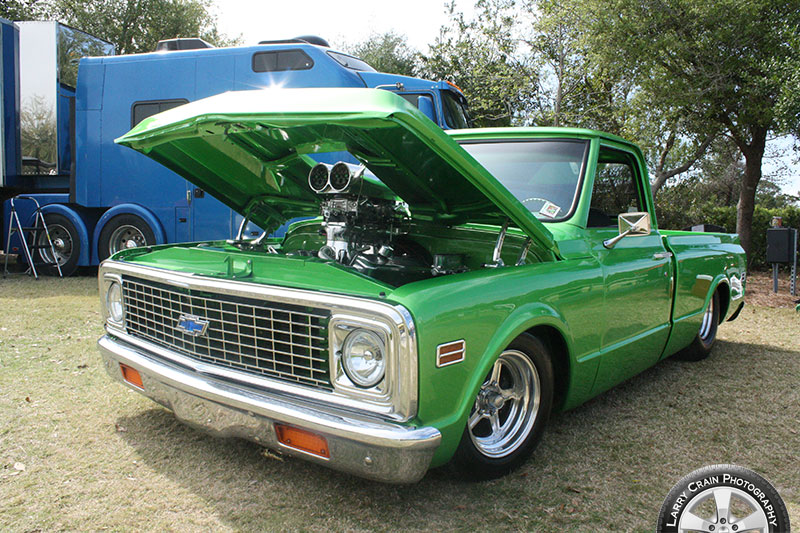 The truck has had pretty serious metal work done by Carl from the custom front inner fenders to the monstrous rear tubs in the bed of the truck. The smooth metal work includes a slicked-out firewall. One very subtle change that Carl made to the truck is one that many people miss; he removed the vent windows and went with a one-piece side glass. After Carl completed his metal magic, Kevin Blanchard then worked his painting skills laying out the 2014 Camaro Synergy Green using Sikkens paint products. Enhancing the finished paint and body are details like the GSI billet door handles, Marquez Design billet tail lights and side marker lights, Ringbrothers billet hood hinges and hood stops and custom chrome outer and inner front grill.

This green beast rides on a totally custom chassis built by Carl Still that is a "Frankenstein" of manufactures that come together for a very serious stance and ride. The front suspension is a combination of C4 Corvette upper and lower control arms, C4 Corvette spindles were also used along with QA1 shocks and Carl went with a Mustang rack and pinion steering so the truck could be nimble as a sports car. For the rear suspension Carl built a custom back half with a four link equipped with QA1 shocks and a narrowed Ford 9 inch rear end with 4:11 gears. Stopping power is a must for any performance vehicle, and Carl installed Wilwood disc brakes on all four corners. Completing the Pro Street look are a set of Billet Specialties Street Lites, front wheels 15x8 mounted with 26x8 Mickey Thompson radials, on the rear a pair of 15x15 Street Lites are mounted with 31x18x15 Mickey Thompson Radials that complete the Pro Street look.

As you can see Teddy and Carl have a killer truck with the mean green paint job and a very serious chassis at this point. Now we look under the cut out cowl induction hood to see the heart of the monster. The motor is the 468 Big Block that is equipped with a Weiand 2x4 tunnel ram equipped with Quick Fuel carburetors and a polished shotgun scoop. An MSD ignition system is used to fire up the big block, but if you look close, all of the wiring has been carefully hidden. The custom exhaust system for the big block is a combination of Sanderson headers and a pair of Flowmaster mufflers that provide the perfect sound of authority that the truck needed. To back up this mighty Big Block is a TCI 700R4 transmission equipped with a TCI 2500 stall converter that works great with the narrowed heavy duty Ford rear end.

The interior of this truck is just as tricked out as the rest of it starting with a pair of seats from a Mini Cooper Bucket that have not been recovered! The bright green interior is complimented with a billet aluminum dash insert for the AutoMeter gauges, billet aluminum dash knobs, billet aluminum door and window handles and the billet aluminum Vintage Air a/c control panel. This cool looking interior also features an Ididit chrome tilt column with a Billet Specialties Street Lites steering wheel, a Classic Trucks console equipped with a B&M Street Bandit shifter and a chrome fire extinguisher. A lot of the custom interior work was also built by or installed by Carl Still.

If and when you see this truck in person, I think you will have to agree with me that all of the hard work by Carl and others have produced is nothing less than a Pro Street Monster that might even scare the other big green one that we all know about.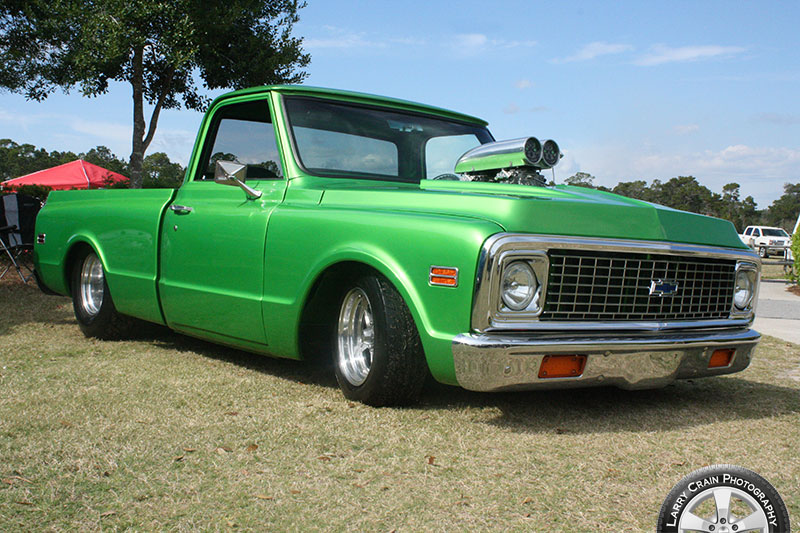 ---
Source: http://www.scottiedtv.com/pro-street-monster/
---
If you have a story to share about your ride, please contact the
LMC Webmaster.